We have the greatest pre-nuptial agreement in the world.  It's called love.  ~Gene Perret
Colby and I recently watched a movie about a couple wanting children… without the commitment of marriage. They believed by watching their married friends "suffer" in unhappy marriages, that they did not want the relationship part… just the kids. Therefore, they decided to have a child together and simply co-parent and live their individual lives. After trying it for a few years they discovered that they did indeed need each other, love each other, and missed out on the romance aspect of the relationship.
Now, I understand there are several different family dynamics in today's society, and that was not my issue with the movie. My issue came in the way marriage was represented. Are there problems that can arise in marriage? Sure. Is every marriage plagued by the same issues? No way. And, for the sake of any argument, I simply wanted to touch on the keeping romance alive after kids aspect. I mean, Colby and I have 5 children… after 7 pregnancies. Obviously, even after having our oldest over 17 years ago, the fire did not burn out. The passion was still there… and grows stronger every day.
Keeping Romance Alive
So, how do couples keep the romance alive? I am sure that the way we manifest the passion and desire is different from the next couple… as it should be. Find what works in your marriage. Your family dynamics may be different. But, I believe that as long as the will is there… the way can only follow.
Where there is a will there is a way.
Here are 5 tips that work well for us:
Flirting – All day. Non-stop. We are crazy about "sexting." We must be careful to check who we are responding to when texting because I would hate to send my dad a text meant for Colby. Other than via texting, we also flirt throughout the day with a look, whisper, or slight of the hand. We have found that this often leads to greater desire and more passion later. The kids have no idea and it's our little secret.
Love Notes – Imagine walking into the bathroom in the morning and finding a love note on the mirror. Or getting to your desk and discovering a post-it note covered with hearts. Little tidbits that proclaim words of affirmation and love are enticing and remind you of the one you love throughout the day. Besides, allowing the kids to see our love for each other in such a nice, tangible way is healthy for them as well.
Quality Time – Dates do not always have to include leaving the house. With kids at home, sitters or finances may not always allow for time away. But, the movie that stemmed this post was excellent quality time for Colby and I. The kids were all in bed and we sat down to watch a movie together and unwind from our day. Other times we may sneak out back to lay on the trampoline and look at the stars. There should always be a way to find quality time alone with your spouse.
Shower Together – This may stem back to quality time, but if you have a monitor to listen for the kids this can work just the same. We have 2 kids that still do not sleep through the night… but they also wake up like clock work. Therefore, we know just how much time we have, unless there is an illness or other "emergency." So, turn on the monitor and jump in the shower together. Leave enough time to head to the bed afterward if necessary… or simply cherish your shower time.
Love Tanks – If you have ever read The 5 Love Languages book, this will work well for you. For instance, my love language is quality time. Hence the reason you have already found it on this list. Colby's is acts of service. Nothing fills his love tank more than when someone does something for him. For me, that means the dishes, the laundry, mowing the lawn… those things that he normally does for the family. If you can learn your spouse's love language, and then fill their tank, they will have a great desire for you and the romance will simply flow without trying too hard. The best part? Your kids can even help you in this area. When I get all the kids on board with helping me clean for daddy, we have successfully filled his love tank. The kids are able to reap their rewards… and I can get mine once they are in bed. Win-win for everyone!
How do you keep the romance alive after kids?
Neverending list of reasons I still love my husband:
46. He fills my love tank. Whether he sits and talks to me as I work or watches a sappy chick flick with me, he knows I just want him beside me.

47. He cherishes my imperfections. As I cover my stretch marks, he embraces the fact that his children acme from them. I must learn to see them as an honor.

48. He is passionate about me… I and about him. Nothing makes me love him more than the way he loves me.

49. He continues to work at our marriage. Understanding marriage takes work, he and I, together, make it a top priority.

50. He makes time for me. When he sees I desperately need time with him, he stops what he is doing and devotes everything to me. Nothing is more admirable.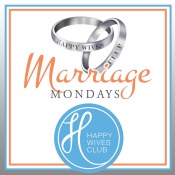 Join me as I link up with the Happy Wives Club by clicking on the image above! I am continuously adding to the reasons I love my husband and would be thrilled to have you join the fun!
---
YOU MAY ALSO LIKE: